We know how important accurate water testing is when taking care of the pools we operate. It keeps our water clear, our bathers safe, and keeps the health inspectors off of our behind! That is, of course, if we are keeping accurate logs. You may be using old-fashioned paper logs to log your findings. You may still be testing using reagents. But there is a better way.
The Pool Shark H2O App
The Pool Shark H2O app is the modern technology for pool record keeping. Once the results are input it gives you accurate readings and dosing instructions to keep your body of water safe. It also logs your findings for a convenient way to keep your pool logs in order and easy to read. You don't have the cumbersome paper log books to try to keep track of. It eliminates the need to physically store past written log books, which can be required to be kept for up to 7 years in some places! You don't have to worry about keeping them dry. You don't have to scramble to write in readings when the health department pops by for a surprise visit.
No way! All the past test results are logged safely on your electronic device or multiple devices for your team. You can easily pull up current and past water test results when called to do so. You can test with your reagents and manually input your findings, or, you can pair your Pool Shark H20 with another piece of modern technology…the Lamotte Waterlink Spin Touch!
The LaMotte Spin Touch
This machine instantly sends your water test findings to your Pool Shark H2O App. This innovative technology will take the place of reagents, which we know have to be replaced often and have a shelf life.
How it works is it is a photometer, which uses the intensity of light on a color wheel that comes in a disc. It matches up the final color and gives you your readings. They are sent automatically to your device for a quick readout. This saves priceless time. And time is money. It is also more accurate than testing by hand.
The LaMotte Spin Touch uses prefilled reagent cartridges with the exact amount to run a complete litany of tests. You just fill each disc with 3 ml of water, insert the disc into the spin touch and your results are done in 60 seconds! That's right, 60 seconds. It is precise and eliminates time-consuming reagent testing and cleaning up afterward.
They come hard wired or portable. Whichever makes more sense to your facility's needs.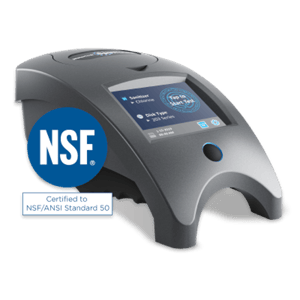 So literally, all you do is use the provided syringe, line it up on the fill hole on the spin disc, and fill to just past the marked line on the disc. You are now ready to rock n' roll. Insert your spin disc into the lab and initiate the test.
Depending on what you want to test for will determine which disc you want to purchase. They have discs that can test for free chlorine (DPD), total chlorine(DPD), Bromine (DPD), pH, calcium hardness, total alkalinity, cyanuric acid, copper, iron, salt, phosphates, borates, biguanide, and biguanide shock. With a variety of spin discs to choose from, you will be able to find the one or ones that test the parameters you need to test for.
This virtually eliminates user error. The reagents are pre-measured so you know you are getting the correct amount. There is an exact reaction time and Auto-blanking.
These can be calibrated via Wi-Fi for a portable machine and with a calibration disc for the hard-wired ones. Just like you used to check the expiration dates on your reagents, you'll want always to make sure your spin lab is calibrated.
Instant, Accurate results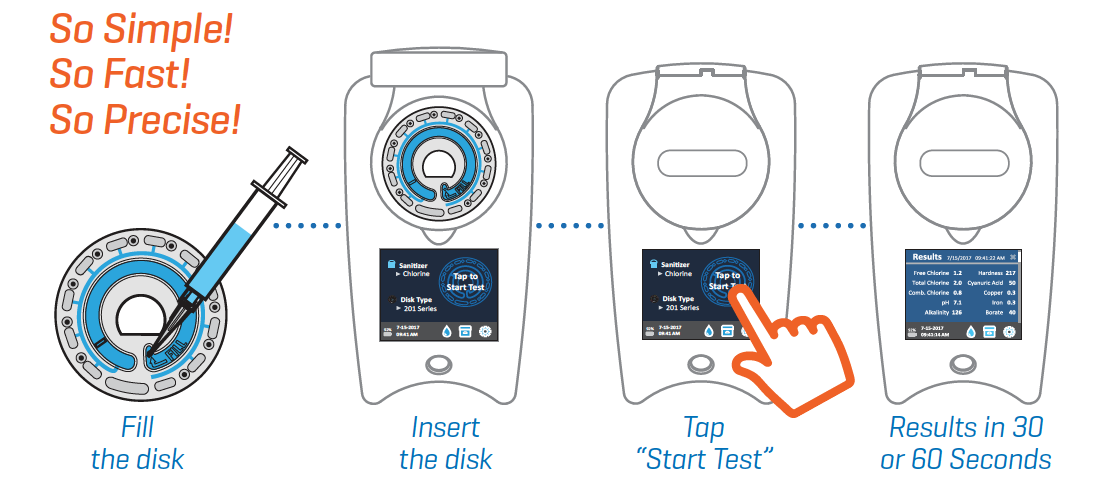 Picture this, you grab a syringe full of the water to be tested, fill it, and then insert it into the LaMotte Spin Touch. You activate the test and BOOM! 60 seconds later your results are automatically sent to your assigned devices where you can utilize the results and dosing instructions you have come to know and to love from your Pool Shark H20 app. You save time by not having to manually enter the results.
Save Time and Money on Commercial Pool Testing
By pairing the LaMotte Spin Touch with the Pool Shark H2O App you have the most efficient, accurate, and time-saving technology working together to help you easily maintain your bodies of water. With accurate water test results every time, you save money on unnecessary chemical usage. You save time by thinking the water is ok when it actually isn't due to operator error on a standard reagent test. This means no surprise algae blooms which can be costly to repair.
Yes, this dynamic duo is the future of all commercial water testing. Are you up with the times? See you poolside!