The Covid-19 pandemic has caused difficult disruptions across a range of industries, with the travel and hospitality industries having been hit the worst. With the promise of widely available vaccines coming in 2021, businesses that remain viable in these industries are trying to forecast the impact on their own revenues and risk profile, and adjust accordingly.
At Pool Shark H2O, we're of course looking at the same issues as everyone else. This article is the result of our research and efforts to look into the crystal ball of what 2021 holds for commercial pool operators.
It's widely accepted that some trends that were already in motion were accelerated during the pandemic. The adoption of e-commerce and streaming media as entertainment gained a decade of momentum over the course of the last year.
One thing that our research is clearly telling us, is that consumers of all stripes are more than ever concerned about risks to their health.
While some consumers have used the pandemic lockdown periods to pursue cooking healthier foods at home and perhaps have gone the Peloton route and are more actively exercising than they have in the past, what holds common for a very large proportion of adults is a sensitivity to disease and a learning of new habits to minimize their own risk.
"Unsurprisingly, sales of household cleaning and disinfectant products saw huge growth. Dettol and Lysol owner, Reckitt Benckiser, saw U.S. sales of cleaning wipes surge over 100% in the first three months of the year, compared to a year earlier and up 60% in the second quarter, with continued momentum into the third quarter with sales +19%. Aerosol disinfectant sales are up over 100% so far this year, climbing +120% in the third quarter, while dishwasher detergents and general kitchen cleaner sales are also up by around 40%.
Henkel, parent company of brands such as Persil and Schwarzkopf, saw U.S. hand soap sales climb by around 60% in the first half of the year and see continued demand into the third quarter, up 33%, with October sales +23%.
"Clearly, hygiene and health are two factors that customers will continue to be focused on. All household cleaners and hand sanitizers, soaps, cleaning gels are at the top of consumer's shopping lists. The items that were in high demand earlier in the year are still hugely popular. Overall, consumers want very high standards of hygiene, so the reality is cleaning and disinfectant products are going to be in demand for quite some time to come," said Pannuti."
Many consumer research firms and strategists see the correlation between the sale of soaps and disinfectants and the underlying concern for the risk of germs and viruses that consumers are now acutely aware of.
Swiss Re is a business re-insurer, that is, insurance companies that insure businesses pass the risk back to Swiss Re themselves through re-insurance policies. Swiss Re studies business risks as a result.
According to their recent report:
Consumer behaviors due to external factors become internalized after 66 days or more of a change in situation.
"Past experiences offer clues to how consumers may behave after the pandemic ends. For example, the spread of SARS in 2003 left a lasting impact on people who have lived through the event. Anecdotal evidence suggests that people still follow habits picked up during the crisis, such as washing hands, using toothpicks to press elevator buttons, tissue paper to open doors of public washrooms and even carrying spare masks in their handbags.
Research shows that it can take between 18 and 254 days to form a new habit; on average it takes about 66 days."
Clearly, the Covid-19 pandemic has lasted long enough to sear awareness of the possibility of viruses and germs in people's surroundings into consumers' minds.
In fact, in terms of trends driving consumer behavior, they list 'healthcare' as a factor driving significantly changed trends and an 'explosive' growth opportunity for brands that are aware of the implications for their business.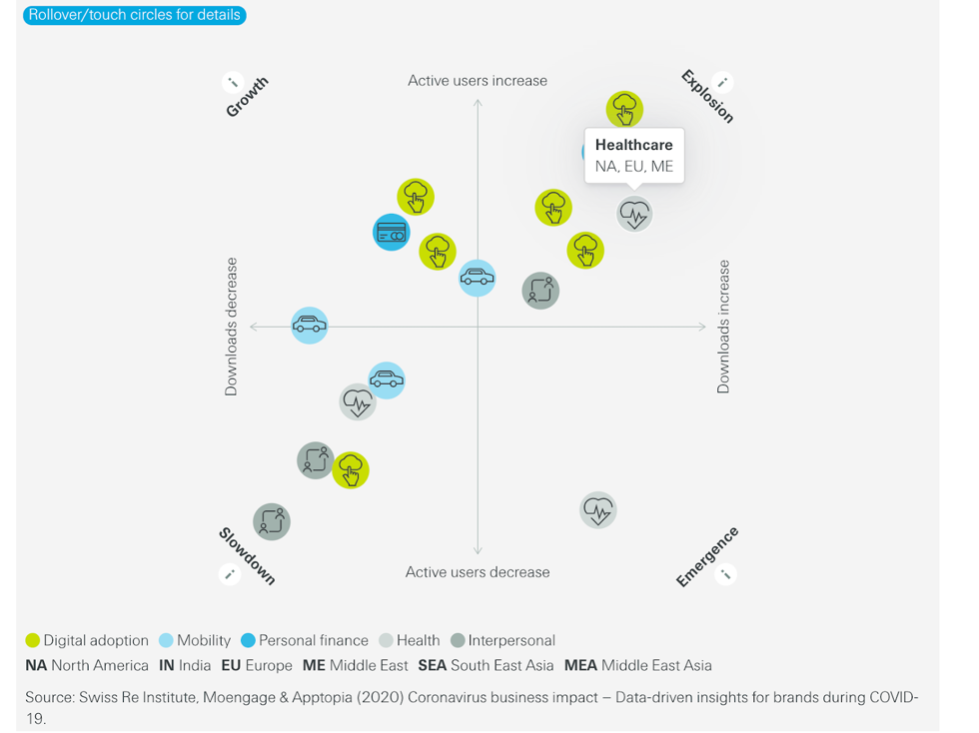 The Impact of Covid-19 on Consumer Psychology - Courtesy Swiss Re
Accenture has surveyed consumers and determined that health concerns are right up there with economic concerns on people's minds. Like other informed sources that we reviewed, they agree that these are long-term trends, not something that will snap back once the pandemic has passed.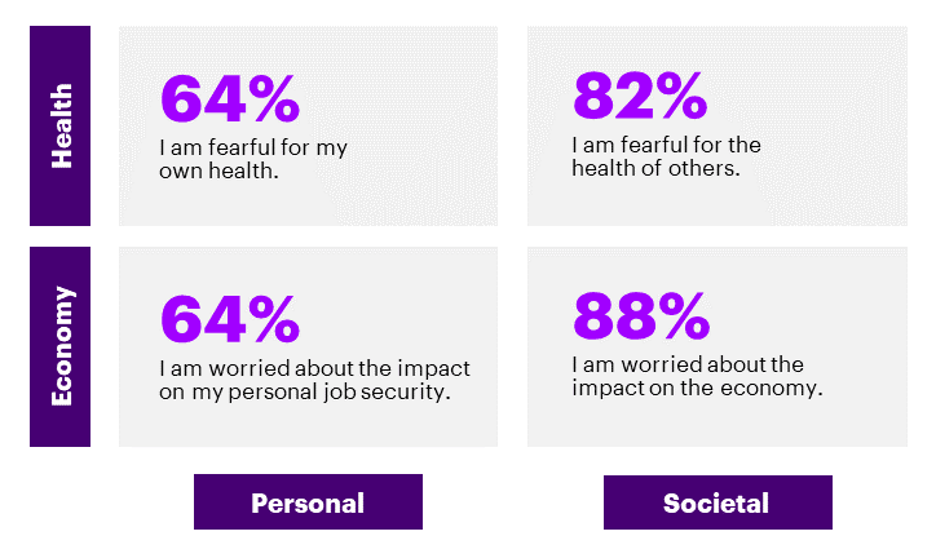 The Prioritization of Consumer Worries as a Result of Covid-19 - Courtesy Accenture
Additionally, according to Accenture, having a 'health strategy' will be a strategic differentiator for the foreseeable future for leading brands.
What this means for operators of commercial pools including residential housing complexes, hotels and travel destinations, water parks, campgrounds, public facilities and swim schools, is that consumers are hyper-vigilant about their surroundings as it relates to germs and viruses.
This presents an opportunity. Companies and organizations that are sensitive to this change in behavior and perception can position themselves competitively for advantage.
Recommendation:
The health precautions that you're taking should be front and center in your communications with consumers. Pool and spa health is no exception. You should be taking extra care around your pools and spas to make sure that you're following best practices for cleanliness and health. When you're able to do this, you should be actively communicating to your customers and guests the precautionary measures that you're taking so that they feel safe.

When promoting your water facilities, you should note that you're following MAHC guidelines for health and safety and that you're utilizing advanced technologies such as Pool Shark H2O to guarantee that your water facilities are healthy.
Make sure that your facilities are ready for the 2021 rebound by getting the Pool Shark H2O App!
Travel is set to accelerate quickly as people get access to vaccines. The NY Times recently interviewed a range of experts in epidemiology and business regarding trends anticipated in 2021.
Do we have to wait for 75 percent of the population to be vaccinated before we can travel again?
"I think traveling is going to start easing up as you get much less than that.
"...as you go from second to third quarter of the year (2021), then you could likely go to movies, go to theaters, do what you want."
"If more than half the population is vaccinated, I would feel a little less stressed and anxious when heading out to do errands I normally do. I might actually feel comfortable to eat in a restaurant or see friends again one day if this is possible."
"I think widespread availability of vaccines will result in the further relaxation of most precautions by mid- to late summer 2021."
Consensus seems to be that life, including travel, will begin to return to normal in mid-2021.
"International travel will remain spotty as people remain wary of hot spots, countries impose travel restrictions. People don't want to travel to hot spots, and countries that have it under control don't want to admit travelers from countries still managing it, unfortunately that means the US."
International travel takes long-term planning, and since there are so many unknowns, it's unlikely that people will commit to it very far in advance, so experts expect that to come around in 2022.
However, 2021 is expected to see a rapid uptick in domestic travel in the US as people get vaccinated and begin to feel safe about travel again.
According to consumer research firm Numerator, in November 2020, most consumers expect things to start to return to normal in about 6 months.
Of the top negative impacts on consumers' lives from the pandemic, almost 60% expressed the inability to travel to visit friends and family as a top concern, just under concern about the impact on the economy. Over a third of consumers have canceled travel plans during the pandemic.
Just days away from 2021, we're hearing the message loud and clear: next year will be better. However, James Asquith, founder and CEO of Holiday Swap, believes it will be 2025 before international travel returns to the volume we've been used to this side of the millennium.
"The pandemic has left a lot of people worried about travel - be it from a health perspective, a financial perspective. But they still want to get out and do stuff. It's those elements which are defining the travel trends for 2021."
Topdeck Travel's research indicates that this has resulted in a new movement, especially among younger people. They call the trend 'rebound travel', as in literally making a break-up-esque comeback to the travel scene.
According to their survey, 93 percent of young adults say that the pandemic and subsequent lockdowns have increased their desire to travel.
In 2021, Tourism Economics expects demand to increase 32.2% and occupancy to increase 30.5%.
Travel marketing firm MMGY Global has been surveying travelers throughout the coronavirus outbreak, revealing how and where Americans were traveling throughout this year. As December comes to a close, CEO Clayton Reid has some predictions for what travel in 2021 will look like with excitement for a vaccine and pent-up demand bubbling at the surface as we close out the year.
Reid believes that the pent-up demand for travel and a desire to celebrate having been vaccinated will lead to a trend of "vaxications," a term coined by MMGY, once travel restrictions are lifted.
Road trips and domestic travel will rule. Reid anticipates this trend to continue as the combination of the ease and safety of car travel and ability to socially distance outdoors will be a perfect fit for travelers' comfort levels.
Even Google agrees. Using GoogleTrends we can see a discernible uptick in searches for 'US vacations' at the beginning of the year.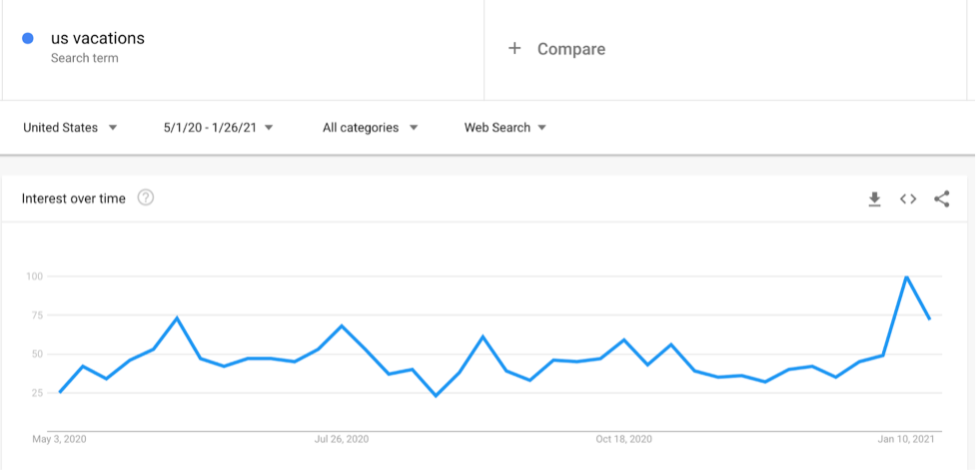 So we know that consumers are entering 2021 extremely aware of the health and cleanliness of their surroundings. We also believe that toward the summer, we're going to see a significant rebound in regional and domestic travel as people begin to stretch their legs again and satisfy their pent-up demand.
It will be important that commercial pool operators be prepared to respond to these trends.
The last trend that we're watching in the commercial pool industry is risk management.
It's an unfortunate fact that poorly maintained pools and spas can quickly become a health hazard. With people so sensitive about viruses and germs, it's vital that businesses themselves don't become a statistic by having a disease outbreak associated with their operations.
One ongoing concern is legionnaires disease, an outbreak of which caused multiple illnesses and deaths and the loss of a hospitality business recently. Legionnaires disease remains a top concern of the CDC.
As a result, the CDC has offered guidance for the re-opening of facilities that could be at risk of disease after a prolonged shutdown. Experts in epidemiology can see the risk looming as facilities reopen, and we'd be wise to heed their warnings.
Recommendations
While there's been an acceleration of some trends, from retail stores to online shopping, from eating out to taking out, and from theaters to in home movie watching -we don't know if these experiences will snap back to their previous levels. The truth however is that there's no digital replacement for a range of activities, including travel and of course swimming!
As consumers re-engage, businesses and organizations that are aware of and respond to consumer health concerns with take the lead the way back to life as normal.
We recommend that:
you anticipate a rebound over the course of 2021 to a more normal economy.
you pay closer attention to the health implications of your business, including your water activities facilities and ensure that you have documented proof that you're in compliance and control of your water quality
you communicate the steps you're taking to maintain healthful facilities and use this as part of your marketing communications, such as your website and the premises themselves
you manage your risk to ensure that your business or operation doesn't become a health statistic
Make sure that your facilities are ready for the 2021 rebound!